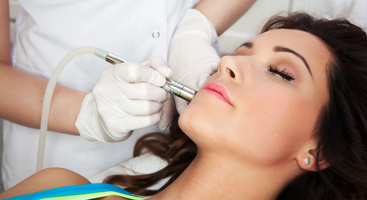 As Nashville's premier source for medical microdermabrasion, we often hear a variety of questions regarding the safety and expected results of the procedure. Though relatively accepted as an effective skin and facial treatment, what microdermabrasion actually is and what it does remains somewhat of a mystery. In an effort to make the process more understandable, we've compiled a list of our clients' most frequently asked questions. If you have any further questions or would like to schedule an appointment at our medical day spa in Nashville, please call us at 615-891-2881.
What is microdermabrasion? The process of microdermabrasion includes the high-pressure spraying of aluminum oxide crystals onto the facial skin through a small-tubed apparatus. The crystals help remove the outer layer of skin, eliminating dirt and dead skin cells; leaving only smooth, even and clear skin behind.
Is aluminum oxide safe to use? Perfectly safe, non-toxic and non-carcinogenic, aluminum oxide crystals are considered completely safe for external use. By protecting your eyes and mouth, and through the use of specialized tools, microdermabrasion is completely safe.
Who can perform microdermabrasion? Nowadays, many estheticians, dermatologists and beauty specialists are all qualified to perform microdermabrasion techniques.
How do I know if it's right for me? There are a variety of skin problems and issues that can be helped or completely resolved with microdermabrasion.
Are multiple treatments required? Where some milder skin issues can be alleviated with just one or two treatments, more serious issues like deep lines and wrinkles, acne scarring and large pores, often require several treatments for the best results. Wait time between sessions is usually about two weeks.
Does it hurt? Though some patients have reported experiencing itchiness and stinging during the procedure, the pain is often minimal and generally non-existent. Though redness is often seen for up to 24 hours after the procedure, it is considered harmless and pain free.